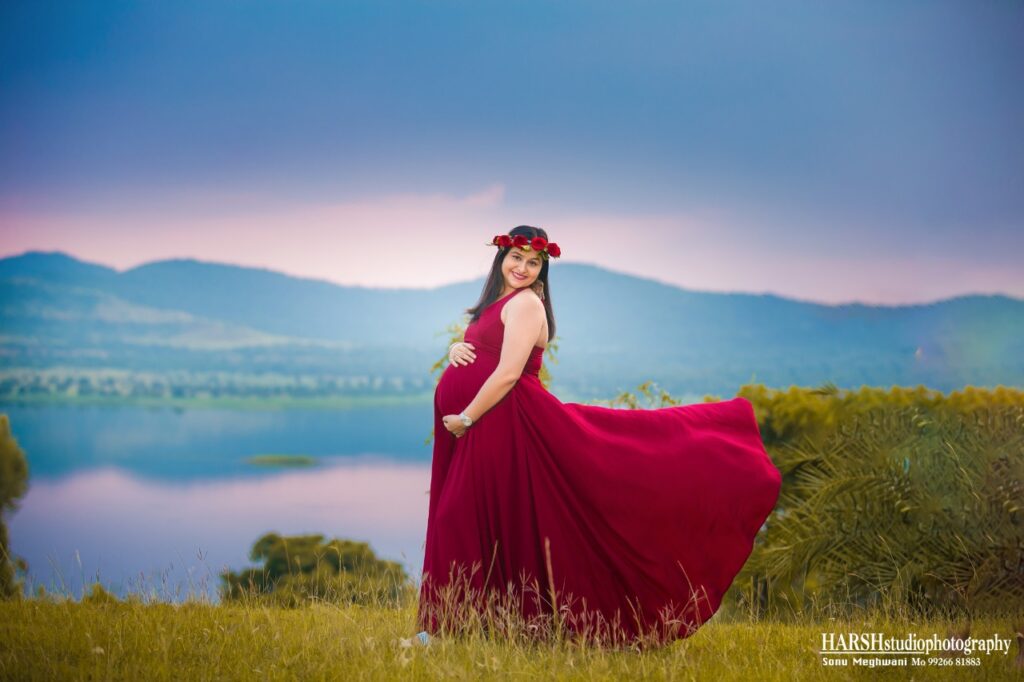 "What is the best time for maternity photo shoot?" is something I get asked a LOT. One thing you undoubtedly need is a bump sufficiently large to nearly be the superstar yet slick enough so you can comfortably stand, pose and enjoy with your other half without it causing any hard work for you. Maternity photo shoots are about you, capturing you as you sprout into parenthood. There's a wonderful aura about you when you are pregnant, an internal concentration and satisfaction, that you are accomplishing something so unfathomably stunning, you're making new life inside your body. It's likewise about your journey as a family. I expect you must be having some gorgeous photos of your wedding, since that is the place your family's journey started. A maternity photo shoot is about capturing the next step, those prior weeks you and your spouse become a family, bound together perpetually through the awesome moments and, let's be honest, preliminaries of parenthood. So despite the fact that you need a decent measured bump to flaunt, during the end of last tri-semester your baby will grow a great deal and your energy levels will be low. We do want to capture the beautiful glow on you and well shaped bump but ensuring that baby is safe and without too much hassle or exhertion for you. As you can envision, planning your professional pregnancy photography requires a touch of creative workmanship and ideas brought to life through technical aspects of photography - || go much more beyond arranging the ideal poses, props and lighting for you, as I love to weave in all little details to make the whole experience stand out for you. You really need to schedule your session to experience that beautiful feeling. Babies have their own thoughts regarding when they're entering the scene, which can mean moms can get into labor weeks before they aniticipate. While it's never too late to take newborn baby photographs, it's impossible to capture maternity photographs after the baby is born! Thus, we advice to plan maternity photo shoots between week 30 and week 36. There are extra reasons why this time frame makes the perfect window for the most amazing and precious photos. While this is an average, a few variables may impact that time period: • If you're hoping to utilize your maternity photographs for baby shower invitations, I suggest doing your maternity photo shoot as ahead of schedule as 27 - 28 weeks. • If you are anticipating twins or more, I suggest doing maternity photo shoot during your second trimester (between week 26 and week 32). Your baby bump will seem • Any pregnancy issues, if you have will also impact when to schedule the session and usually taking advise from your gynaec is ideal in such cases. Your accessibility is another factor which impact the time frame.
You feel extremely extraordinary, can move around serenely and securely and are not stressed to give birth between week 30 to week 36
The objective of a maternity photoshoot is to capture the most undiluted essence of your pregnancy – the glow, the bump and the enchantment of a body that can develop and feed a baby. This implies if everything is fine we would like to hold up until the third trimester. The precarious part about holding up is that most mothers find the third trimester a bit cumbersome.
Mostly you might feel extraordinary, can move pretty easily and appreciate the sensations of your baby's movements in the first half. While in the second half when resting for extended lengths is testing, your body starts feeling somewhat bulky and tiring.By focusing on the first half of the third trimester – between weeks 30 and 36, we commend the forms of your beautiful baby bump – during a timespan when you're feeling extremely extraordinary and not stressed over and you can move serenely and securely.Exceptional note: In the event that you understand that you need to do a pregnancy photoshoot when you are 38 weeks, I generally attempt to accommodate the request if the schedule permits and advice to only have a studio shoot and not outdoor. Eventually, tuning in to your body and how it is changing is vital and timing your maternity shoot as needs be is the most ideal choice.
Ease of moving around is important
During the maternity photo shoot it is very vital that you can move securely around the photography area. Most of my maternity photo shoots occur in excellent, open air areas around beaches or green spaces (no light is better than that given by the Mother Nature). In this way, your physical solace and well being are a first concern.
In the event that you are 36-week and ahead, the stomach feels too-huge for-your-comfort, you will make some hard memories moving around and holding infrequent stances without breaking a sweat as you would have half a month earlier (A run off the mill maternity photo shoot takes around one and a half hour. Also, since security is very important at this juncture, your strong balance and comfort is proportional to your comfort of the movement.)
To ensure that you are comfortable, harsh studio Photography provides the choice of the excellent
maternity photo shoot outfits and props you'll require for your photo shoot. Hence, there's no compelling reason to buy anything. Simply book your session with ours or your preferred hair and make-up artist and wear something comfortable – our outfits will do the rest.
If you are prepared to book your timeless maternity photo shoot with a professional photographer who will flawlessly preserve your journey to parenthood for a lifetime, | recommend that you get in touch with me, harsh here at harsh studio Photography as quickly as time permits. Being experienced and internationally certified in newborn baby safety and photography techniques with a passion in heart to create stunning imagery for you, I ensure that we capture those magical moments together.
A large number of parents I work with are apprehensive and feel like they don't have any idea what's in store, how to present and how to dress up during Maternity Photoshoot. The apprehension can leave by having some details.
A large number of parents for whom I have done maternity photo shoot in indore have admitted that other than their wedding or engagement photos, the maternity photo shoot is their first photo shoot experience. Clearly they feel apprehensive and clueless about what's in store, including how to present and how to select outfits. Inspite of the fact that feeling that way is totally understandable, but trust me, it is not that complicated! All your apprehensions can go away in our consultation call which I schedule especially for you before we even schedule our session. So right away, here I am, sharing the five things you should definitely consider for an effective and fun maternity photo shoot!
1. The most effective way to prepare
Regardless of if this is your first pregnancy or the third, it is an extra-special time for you and your family. Being pregnant is magical and this lovely time goes on for a brief span, wherein planning something for making these moments everlasting is definitely a smart thought. You've just begun by booking your maternity photo shoot, but how to be prepared for the day is the question still pending? All things considered, the maternity session photographs will be a treasure of your baby's inheritance and story. They will keep going for a long time into the future, so one thing you want to ensure is that you look your very best! You should think about taking an appointment with your makeup artist and hair stylist. It's additionally a smart thought to consider having a manicure done, since certain maternity photo shoot 
poses can have closeups of your hands on your tummy.
Ensure that your Maternity Photo shoot day is kept free and open so you're not worried contemplating about different things you need to do! Consider it like a special day for you and your life partner. | generally propose that you should make some nice dinner bookings too, for after the photo shoot, you would really love to close the day on a beautiful note.
2. Picking Maternity Photoshoot Location
Despite the fact that our studio is available as a location and we would love to host you there for an indoor maternity photoshoot, but for outdoor maternity photoshoot the environmental factors are imperative to get brilliant photographs.
We are extremely fortunate that in the Regional Park Indore also offers huge amounts of concealed green zones with blossoms and trees. Searching for a urban look? Strolling around the local streets and wall paintings could be a smart thought. In case you're more into a private setting, your society lawn or your own house are acceptable choices as well. Remember that lighting and space are required for taking good photograph, so in case you're planning to utilize your own home as an area, ensure you have a good place with a big window that takes into account excellent light.
3. Maternity Photoshoot Dresses
You look beautiful. I'm mindful that most mom-to-be's don't feel that way when they are expecting, thinking about the weight they have gained, how their dresses don't fit any longer, they're aware of their stretch marks and swollen feet. But in all actuality, you look staggering and you glow.
I, as a photo artist, am here to draw out that beauty and show you how dazzling you look with your large round bump. Some dresses are more complimenting than others.
Wearing maternity dresses that are exclusively designed for the photo shoots of moms-to-be are the best
alternative, and my studio offers you an amazing variety of them to choose from and make your session stand out!
I have number of internationally sourced maternity dresses which are designed specifically for maternity photography. They extend from sheer to full, from tight to free, so you can pick one that goes with your style, attitude and personality.
In the event that your better half or child is joining the photo shoot, you can instruct them to wear
something easy going and ageless that mirrors their character. Jeans and buttoned shirt are consistently incredible option. Among kids, boys can wear shorts and a buttoned shirt or polo shirt, while girls can wear light shaded dresses or jeans with an adorable top. The key is to keep it comfortable.
Pick hues that work out in a good way for the shades of the outfits you picked. Maintain a strategic
distance from splendid hues or bold patterns, since they can cast hues on your skin and overwhelm the photos.
We will also help you in selection of the Colours post confirmation of the photo shoot to ensure the colour Co-ordination.
4. Maternity Photoshoot Props
The maternity photoshoot is about you and your future child. Make it special! You're free to come with whatever adds an individual touch to your photographs. It could be as special as your baby's first ultrasound picture.
Perhaps the grandparents are occupied at work knitting adorable things for their grand-kid, or possibly you surprised your better half earlier that he was becoming a father by purchasing the child's first teddy bear!
Each one of these things are what make your maternity photoshoot yours and I urge you to bring them.Your pets are likewise welcome!
There are many other fun things that can give an exclusive thing to your pictures, similar to sparkles,flowers, balloons or slates.
Since the second you chose you needed maternity photographs, you may have been rehearsing before the mirror to perceive what's your best pose.
The thing is, you're recruiting a professional maternity photographer since we realize how to get the best out of each posture. Kindly know that you don't have to know how to pose and where to put your hands,that is the reason you've hired us! We realize how to catch the best 'you'. I want your experience to be super comfortable and relaxing 
At Harsh Studio Photography, maternity photo shoot lasts between an hour and a half and two hours. You may change outfit around multiple times so you can have various looks. In the outdoors, we will stroll around during the photoshoot so we can have variety and assortment in your photographs, halting to a great extent for a couple of shots and afterward proceeding onward.
The whole maternity photoshoot experience will be a lot of fun and memorable. Recollect that the photos are little windows that permit us to restore the past, and we need those to be our most upbeat recollections.This photoshoot is about you and your family, it's an opportunity to be together and appreciate each other's conversation while making lifetime recollections. Simply let go of your concerns that day, focus around the present time and get ready for a beautiful experience while we pursue the sun to the skyline and encircle yourself in marvelous golden light.
Prepared to book your maternity photo shoot? Get in touch with me to plan it!
5 KEY TIPS FOR TRAVELLING DURING PREGNANCY BY AIR IN INDIA
Regardless of whether you're travelling during pregnancy on a short Aight or preparing for a long stretch flight, I have tips on what to pack, how to experience security peacefully and what you have to know as far as safety is concerned.
The other day I was talking to one of my friends who is expecting and we were discussing about the different airline guidelines during pregnancy by air tarvel in India. While talking to her, I recollected the time when I was pregnant with my son in 2018. When I was in my 28th week, I had to plan an unavoidable air travel from Mumbai to our hometown, Chandigarh. It took me a lot of time, banging my head on one website and another, to plan my pregnancy travel by air. I never though that it will be so difficult for pregnant women.
Through that exhaustive research I was able to help my friend. That's when it struck me to compile all the information for every expecting mom who is planning to travel by air. Reason could be anything. While tech has kept us connected to each other but sometimes flying becomes inescapable. At times that implies to even a Baby moon away with your better half or an outing to a place that has constantly been on your bucket list. At that point flying is something you've got to do.At the point when you're pregnant, travelling can be overwhelming, however trust me – it's absolutely feasible if you plan properly. When | was researching about air travel during pregnancy, I found out that all the information was available in bits and pieces and few information you only get post experiencing it. I don't want you guys to go through the same and I have penned it down for all you guys. For I have been in the same boat as you, I absolutely understand how you feel.
So here is sharing some handy and useful tips to make your pregancy by air travel experience easier.
TIP #1 - KNOW WHEN CAN YOU FLY AND WHAT YOUR INSURANCE COVERS!
In the first, second, or third trimester? You're presumably pondering when it's ideal to fly.
• For some people, the principal (1st) trimester is more troublesome due to morning sickness. Regardlessof whether it's due to food repugnance or motion sickness, flying can surely fuel that up further. 
• Primary (1st) trimester comes with a higher danger risk of miscarriage. So there is a need to be super extra careful if planning a travel during 1st trimester. 
• In case you're arranging a Babymoon, unquestionably, hold up until you're well and reach the subsequent (2nd) trimester. It makes you feel more relaxed healthwise. Most importantly, don't forget to consult your travel plans with your doctor well in advance. You may likewise need to check airline rules. 
• Numerous air carriers won't let you fly following 28 weeks without a note from your physician, while numerous travel insurance companies, won't cover up any retractions after your 32nd week (24 weeks for multiples). If you need to fly late in your maternity, I suggest having your primary care physician's consent and have supporting records printed and prepared, just in case you're asked or questioned at check-in. 
• In case you're travelling international, check the arrival country's regulations for admitting pregnant ladies. Ensure that you're mindful of what clinical administrations they can provide.
TIP #2 - BUDGET FOR EXTRA TIME AT CHECK IN
There's nothing more regrettable than feeling hurried and on the edge when you're travelling during pregnancy.
In case you're somebody who is typically fine with showing up at the air terminal 45 minutes before your flight, stretch that to one and a half hour to two hours. 
• This will give you an opportunity to discover somebody who can help you with your baggage, handle any surprising inquiries at check in and respond to gate changes appropriately. 
• This is particularly pivotal in case you're pregnant AND travelling with another baby. 
• Showing up well before the time allows for multiple restroom breaks, spills and a truly necessary
embrace from a friendly stranger or airline staff members.
TIP #3 - MAKE YOURSELF COMFORTABLE AT SECURITY
Many of us are concerned about going through screening technology or taking off our shoes in airport security. 
• While all the modern scanners are built on Millimeter – Wave Body technology which is safe for allpassengers including expecting females. It's alright to request a physical search in case you're not happy. At the point when you're pregnant, you simply need to do what keeps you at ease. 
• To comfort you more, the multiple manufacturers have clarified that the Advanced Imaging Technology and stroll through metal indicator frameworks don't utilize X-beams to create the picture, yet rather use non-ionizing electromagnetic waves that are reflected off the body.
TIP #4 - HELP! HELP! HELP!
Generally, individuals love helping pregnant ladies. There is something about carrying a newborn which seems to make people warmer and kinder, and it's something you ought to thoroughly acknowledge with great enthusiasm.One of the off chance that you need assistance getting a thing in or out of the overhead compartment,simply let an airline steward know. Same goes for huge packs when travelling globally.
TIP #5 - DRINK WATER & EAT HEALTHY
At the point when you're pregnant your child is actually and metaphorically draining the life out of you. • At this point when you're flying, you're increasingly prone to dehydration SO DRINK WATER. 
• You may consider bringing an electrolyte substitution (ORS) drink on long stretch flights.
• Additionally pack sound tidbits like carrot sticks, apple cuts and almonds to keep you satisfied. 
• In case you have nausea or have flying sickness, converse with your primary care physician about the prescriptions to take while on the way to your destination.
BONUS TIP – HOW & WHAT TO PACK!
Utilize a rucksack for a carry-on. This will help uniformly distribute the weight across your back and spare your sore body while trekking through the terminal. 
• As far as garments, I think most of the women loves wearing something a bit sporty or free and flowy. 
• Many ladies select leggings, however ensure they don't cut into the center of your belly or in the rear of your knees. 
• Circulation is required when you're pregnant, so dress in things that let the blood stream! 
• Change of garments 
• Pressure socks (particularly if you've been encountering swollen feet. 
• Huge sweater that can serve as a cover if necessary 
• Water 
• Snacks in abundance
Maternity Portraits are a great way to preserve your memories. Here are my unique maternity photoshoot ideas which you can use to take some gorgeous self pregnancy photo shoot poses!
As a mother and the one who has traveled in the lane you are currently in, I must agree that all moments during pregnancy cannot be covered by a professional maternity photographer and hence its always good to consider adding more portraits by yourself.
Pre baby shoot is an awesome way to keep the memories of pregnant mother's devine glow and I ensured to note down some cute maternity photo shoot ideas to make it worth for you.
Adding self clicked maternity photos can help you cherish the little moments you are enjoying. It can further help the couple to bond better and show your baby how much you both loved to bring him/her to this world.
To ensure you end up clicking gorgeous maternity photos, we have documented this list of awesome pregnancy photo shoot ideas or maternity shooting ideas which can help you get the best shots.
Pregnancy Announcement Photoshoot Ideas
It's best to choose a portrait from your professional maternity photo shoot for the announcement.
But then, you can definitely have one clicked by you yourself and better to involve your sweet and caring husband to make more memories. So, if you want to share the exciting news to the whole world i.e. your friends and family, here are some unique pregnancy reveal ideas, everyone will love:
• A photograph with the couple holding small booties and a due date sign is definitely a simple and serene way to share the news.
• Mother marking a date in the calendar with one hand on belly is also a classic way to announce.
• A fun way could be to get a picture next to "bump ahead" sign board in your local street. This can also convey that both baby and mother are doing fine.
• Want to make it more funny, get a spoof movie poster made with your family in the starcast and due date as release date.
• One candid way of announcement is to get a candid photo while announcing it to extended family members.
Maternity Photoshoot Location Ideas
Where shall I click my self maternity shoot so that pics come good? Let me try and resolve the most difficult part in maternity photoshoot poses.
• Beaches are the best bet if you have one nearby .The image with clean beach and the coastline will be timeless. Both of you taking a walk is also a moment to keep for yourself.
• You can also plan as per season or weather. If it's a spring, go to a garden where you can find lots of blooming flowers and if it's a fall get to a garden with lots of colourful foliage. If you have started making or designing baby room. This is the good time to make a memory where
both of you can be seen working on it.
• Even other parts of your home can be a good place to have few photographs. Haven't you made innumerable memories there already? Just document them, they all are lovely.
• Last but not the least, go to a place both of you love to hang out at. Or may be where you met first time. Or anything you two enjoy doing together.
If you are confused on how to pose up! Here are few simple poses to get those classic shots and to get you started.
• Humour is the best way to relax and enjoy isn't it and it is definitely a good way to have a maternity click. Mother blowing up a balloon with a "ready to pop" sign is a nice way. 
• Mother and Father standing and touching each other bellies is another humorous pose.
• Taking a marvellous silhouette of mother as a side pose with light behind the mother is a beautiful pose. 
• Taken from the top, a mother's picture sitting and emphasizing on the baby bump can also be mesmerising. 
• You can also play with shadows. Take that when the shadows are crisp.
Pregnancy Photo Shoot Ideas with Husband
I have already mentioned couple of ideas above where couple can come together and get their pictures. The below are few candid real life moment ideas which can help you make memories as you are shooting for your self maternity shoot. You might either require remote along with a camera or need to put camera on timer to get those candid shots.

• Husband and Wife shopping for the baby in a shop or in a mall with husband carrying lots of bags and mom carrying the baby bump. 
•Husband working in a kitchen and wife sitting next to him on a high chair waiting for the food. Both of them talking to each other and laughing. 
•Husband bringing bucket full of popocors or nachos along with water and some other stuff while wife is watching TV or a movie sitting on a couch. 
• Husband showing his wife a roti with a hole while wife is smilingly looking back.
•Husband and wife sitting together in a balcony enjoying sunset or sunrise with an emphasis on baby
bump.