3 Reasons to
Review
your wedding photographer​
Your wedding just got over, and you're don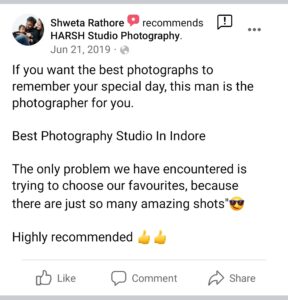 e with all the hustle-bustle of the wedding, but you are still missing something. All you need to do is, write a thank you note to your wedding photographer in the form of reviews.
Be it Google, Instagram, Facebook, make sure that you leave some kind words for them, so the review pushes them to do better. Here are some top reasons to leave a kind word for your wedding photographers.
It is the best way to show appreciation to your wedding photographers
Wedding photographers make sure that your big day is captured in its truest essence, they freeze the best of every moment, and make sure that you can cherish your moments the right way.
Just like your prep for your big day, wedding photographers also prep their pieces of equipment from the first ritual to the last dance. It doesn't only stop at that – the process is more than that as they also edit your pictures into what it is. For your photographer, the review you write is the equivalent of a sweet thank you note.
It benefits other couples
Just like you, there are thousands of couples who are struggling to pick the right photographer for their big day. Do them a favor and make them choose the best, just like you did.
Writing a line or two for the people who captured the best moments on your big day could benefit, not only them but a lot of people.
It might help boost a small business
If you really believe in the photographers that you chose, you should give them a chance. In most cases, it so happens that the big studios get all their due credit because of how famous they are, but these small studios, despite being great at what they do, fail to get that recognition.
Your one small review has the power to make the small business reach new heights. Help them get their credits by spreading the word.